Voyager Beach Resort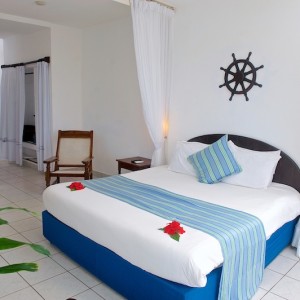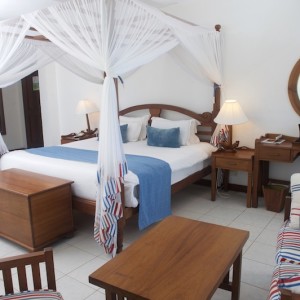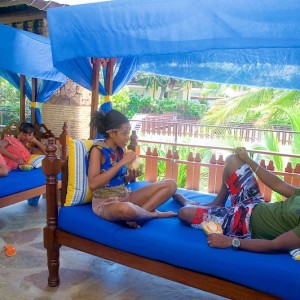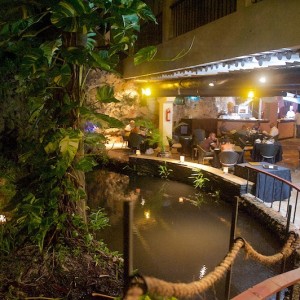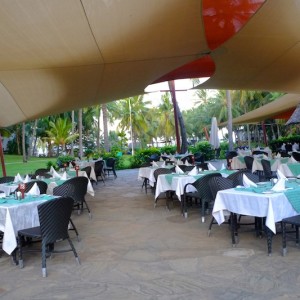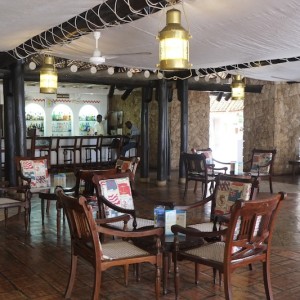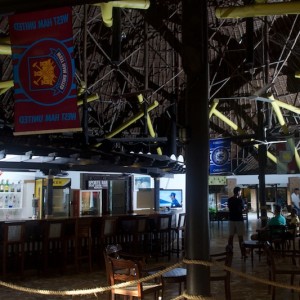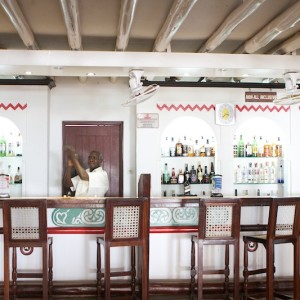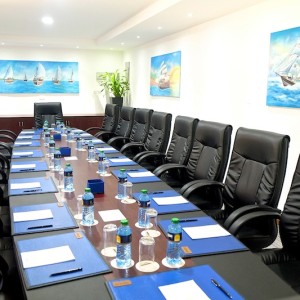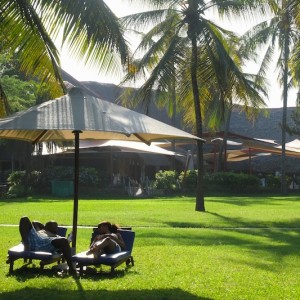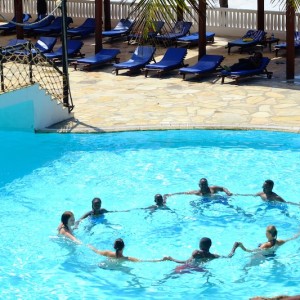 About the Hotel
Located by the sparkling white sandy beach of Nyali, the Voyager Beach Resort is set like a ship – with the Managing director as the ship captain. The hotel has 'cabins' not rooms. The resort is seven kilometers north of Mombasa city centre. It is strategically located to give guests easy access to a huge variety of historical, sporting and cultural attractions, including Africa's largest crocodile farm and the world-famous Haller Park (formerly Bamburi Nature Trail).
All cabins (rooms) are built with private balconies fitted with sliding doors to give you uninterrupted views of the spread of the ocean and the tropical gardens.
Voyager Beach Resort has 44 standard garden-view cabins, 46 garden-view plus cabins, 52 superior garden-view cabins, 77 superior sea-view cabins, 9 deluxe sea-view cabins, 3 garden and 5 sea-view junior suites.
Facilities & Services

Room service
Shuttle service (surcharge)
Airport shuttle (surcharge)
24-hour front desk
Currency exchange
Tour desk
Luggage storage
Babysitting/child services
Laundry
Dry cleaning
Meeting/banquet facilities
Business centre
Barber/beauty shop
Gift shop
Tennis court
Golf course (within 3 km)
Fishing
Table tennis, Windsurfing, Darts, Canoeing, Diving, Snorkeling
Water sport facilities (on site)
Water park
Massage
Games room
Children's playground & Kids' club
Evening entertainment

Rates & Availability

RATES VALIDITY

04th Jan, 2016 – 31st Mar, 2016

Room

Occupancy

Single Room

Per Person

Double/Twin

Per Person

Triple Room

Per Person

Child Sharing

( Under 12 Yrs)

Garden View Cabin
USD
USD
USD
USD
Half Board
120.00
80.00
70.00
40.00
All Inclusive
170.00
115.00
100.00
60.00
Superior Garden View
USD
USD
USD
USD
Half Board
145.00
95.00
85.00
50.00
All Inclusive
195.00
130.00
115.00
65.00
Superior Sea View
USD
USD
USD
USD
Half Board
155.00
105.00
90.00
55.00
All Inclusive
205.00
140.00
120.00
70.00
Superior Deluxe Sea View
USD
USD
USD
USD
Half Board
205.00
135.00
120.00
70.00
All Inclusive
255.00
170.00
150.00
85.00
Executive Garden Cabin
USD
USD
USD
USD
Half Board
230.00
155.00
N/A
80.00
all inclusive
280.00
190.00
N/A
95.00
Executive Garden Sea View
USD
USD
USD
USD
Half Board
250.00
170.00
N/A
85.00
All Inclusive
300.00
200.00
N/A
100.00

RATES VALIDITY

01st Apr, 2016 – 31st Jul, 2016                     

Room

Occupancy

Single Room

Per Person

Double/Twin

Per Person

Triple Room

Per Person

Child Sharing

( Under 12 Yrs)

Garden View Cabin
USD
USD
USD
USD
Half Board
105.00
75.00
65.00
35.00
All Inclusive
155.00
105.00
90.00
55.00
Superior Garden View
USD
USD
USD
USD
Half Board
125.00
80.00
70.00
40.00
All Inclusive
170.00
115.00
100.00
60.00
Superior Sea View
USD
USD
USD
USD
Half Board
135.00
90.00
75.00
45.00
All Inclusive
180.00
120.00
105.00
60.00
Superior Deluxe Sea View
USD
USD
USD
USD
Half Board
140.00
95.00
80.00
50.00
All Inclusive
190.00
130.00
110.00
65.00
Executive Garden Cabin
USD
USD
USD
USD
Half Board
165.00
110.00
N/A
55.00
All Inclusive
210.00
140.00
N/A
70.00
Executive Garden Sea View
USD
USD
USD
USD
Half Board
175.00
120.00
N/A
60.00
All Inclusive
225.00
150.00
N/A
75.00

RATES VALIDITY




( Easter Holiday)                   

Room

Occupancy

Single Room

Per Person

Double/Twin

Per Person

Triple Room

Per Person

Child Sharing

( Under 12 Yrs)

Garden View Cabin
USD
USD
USD
USD
Half Board
190.00
130.00
115.00
65.00
All Inclusive
240.00
160.00
140.00
80.00
Superior Garden View
USD
USD
USD
USD
Half Board
205.00
135.00
120.00
70.00
All Inclusive
255.00
170.00
150.00
85.00
Superior Sea View
USD
USD
USD
USD
Half Board
215.00
145.00
125.00
75.00
All Inclusive
265.00
175.00
155.00
90.00
Superior Deluxe Sea View
USD
USD
USD
USD
Half Board
225.00
150.00
130.00
80.00
All Inclusive
275.00
180.00
160.00
90.00
Executive Garden Cabin
USD
USD
USD
USD
Half Board
245.00
165.00
N/A
85.00
All Inclusive
290.00
195.00
N/A
100.00
Executive Garden Sea View
USD
USD
USD
USD
Half Board
260.00
170.00
N/A
90.00
All Inclusive
310.00
205.00
N/A
100.00

RATES VALIDITY

01st Aug, 2016 – 31st Aug, 2016                   

Room

Occupancy

Single Room

Per Person

Double/Twin

Per Person

Triple Room

Per Person

Child Sharing

( Under 12 Yrs)

Garden View Cabin
USD
USD
USD
USD
Half Board
200.00
135.00
115.00
70.00
All Inclusive
250.00
165.00
145.00
80.00
Superior Garden View
USD
USD
USD
USD
Half Board
215.00
145.00
125.00
75.00
All Inclusive
265.00
180.00
155.00
90.00
Superior Sea View
USD
USD
USD
USD
Half Board
225.00
150.00
130.00
75.00
All Inclusive
275.00
185.00
160.00
90.00
Superior Deluxe Sea View
USD
USD
USD
USD
Half Board
235.00
155.00
135.00
80.00
All Inclusive
285.00
190.00
165.00
95.00
Executive Garden Cabin
USD
USD
USD
USD
Half Board
255.00
170.00
N/A
85.00
All Inclusive
310.00
205.00
N/A
100.00
Executive Garden Sea View
USD
USD
USD
USD
Half Board
270.00
180.00
N/A
90.00
All Inclusive
320.00
215.00
N/A
100.00

RATES VALIDITY

01st Sept, 2016 – 10th Dec, 2016                  

Room

Occupancy

Single Room

Per Person

Double/Twin

Per Person

Triple Room

Per Person

Child Sharing

( Under 12 Yrs)

Garden View Cabin
USD
USD
USD
USD
Half Board
150.00
100.00
90.00
50.00
All Inclusive
200.00
135.00
115.00
70.00
Superior Garden View
USD
USD
USD
USD
Half Board
165.00
110.00
95.00
55.00
All Inclusive
215.00
145.00
125.00
70.00
Superior Sea View
USD
USD
USD
USD
Half Board
175.00
120.00
100.00
60.00
All Inclusive
225.00
150.00
130.00
75.00
Superior Deluxe Sea View
USD
USD
USD
USD
Half Board
185.00
125.00
110.00
65.00
All Inclusive
235.00
155.00
135.00
80.00
Executive Garden Cabin
USD
USD
USD
USD
Half Board
205.00
135.00
N/A
70.00
All Inclusive
255.00
170.00
N/A
85.00
Executive Garden Sea View
USD
USD
USD
USD
Half Board
220.00
145.00
N/A
75.00
All Inclusive
270.00
180.00
N/A
90.00

RATES VALIDITY

11TH Dec, 2016 – 21st Dec, 2016                   

Room

Occupancy

Single Room

Per Person

Double/Twin

Per Person

Triple Room

Per Person

Child Sharing

( Under 12 Yrs)

Garden View Cabin
USD
USD
USD
USD
Half Board
170.00
115.00
100.00
60.00
All Inclusive
220.00
145.00
125.00
70.00
Superior Garden View
USD
USD
USD
USD
Half Board
185.00
125.00
105.00
65.00
All Inclusive
230.00
155.00
135.00
80.00
Superior Sea View
USD
USD
USD
USD
Half Board
195.00
130.00
115.00
65.00
All Inclusive
240.00
160.00
140.00
80.00
Superior Deluxe Sea View
USD
USD
USD
USD
Half Board
200.00
135.00
110.00
70.00
All Inclusive
250.00
170.00
145.00
85.00
Executive Garden Cabin
USD
USD
USD
USD
Half Board
225.00
150.00
N/A
75.00
All Inclusive
270.00
180.00
N/A
90.00
Executive Garden Sea View
USD
USD
USD
USD
Half Board
240.00
160.00
N/A
80.00
All Inclusive
285.00
190.00
N/A
95.00

RATES VALIDITY

22nd Dec, 2016 – 03rd Jan, 2017                    

Room

Occupancy

Single Room

Per Person

Double/Twin

Per Person

Triple Room

Per Person

Child Sharing

( Under 12 Yrs)

Garden View Cabin
USD
USD
USD
USD
Half Board
365.00
245.00
210.00
125.00
All Inclusive
410.00
275.00
240.00
140.00
Garden View Cabin
USD
USD
USD
USD
Half Board
380.00
250.00
220.00
125.00
All Inclusive
430.00
285.00
245.00
140.00
Superior Sea View
USD
USD
USD
USD
Half Board
390.00
260.00
225.00
130.00
All Inclusive
440.00
290.00
250.00
145.00
Superior Deluxe Sea View
USD
USD
USD
USD
Half Board
400.00
265.00
230.00
135.00
All Inclusive
445.00
300.00
260.00
150.00
Executive Garden Cabin
USD
USD
USD
USD
Half Board
420.00
280.00
N/A
140.00
All Inclusive
465.00
310.00
N/A
155.00
Executive Garden Sea View
USD
USD
USD
USD
Half Board
435.00
290.00
N/A
145.00
All Inclusive
480.00
320.00
N/A
160.00
Join the Conversation & Connect with us