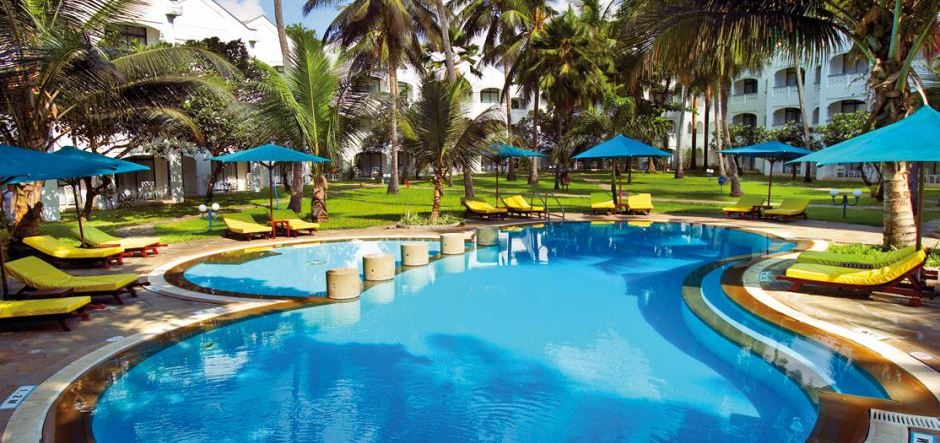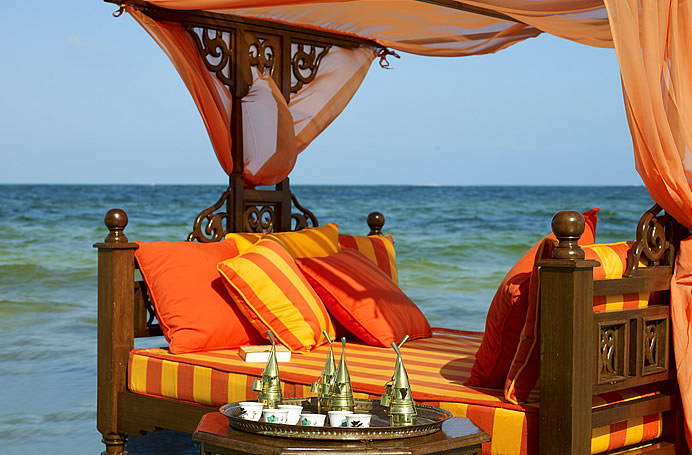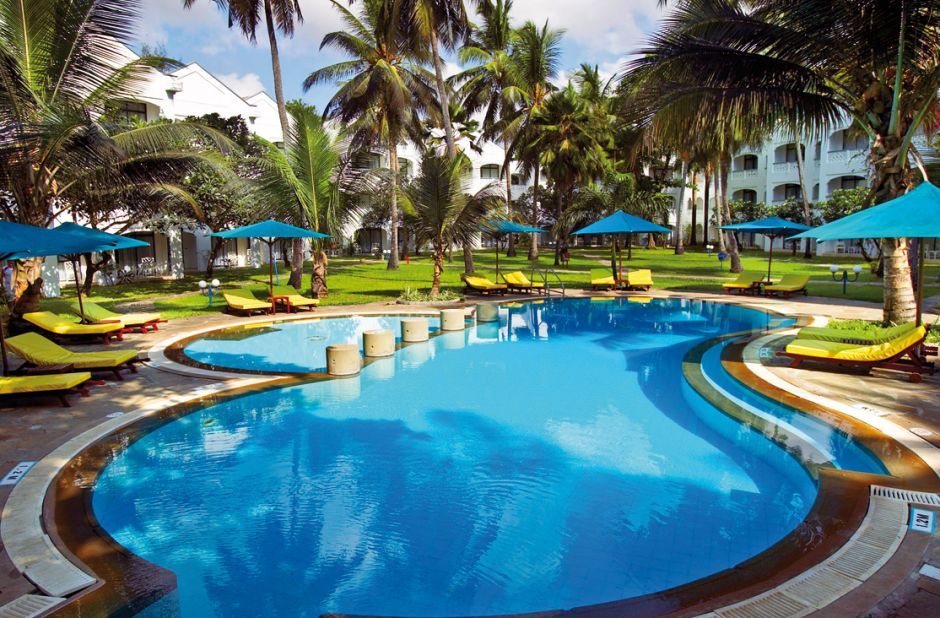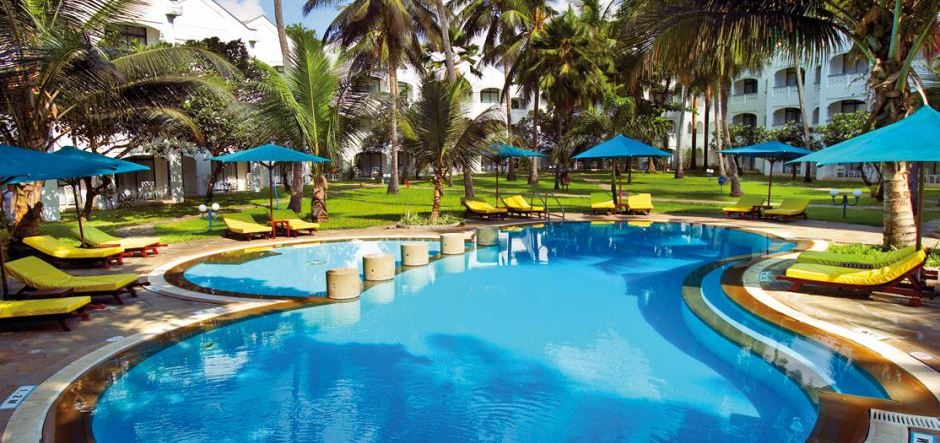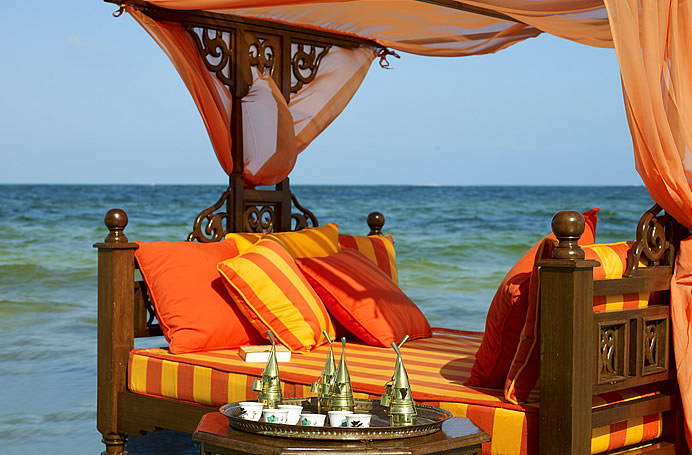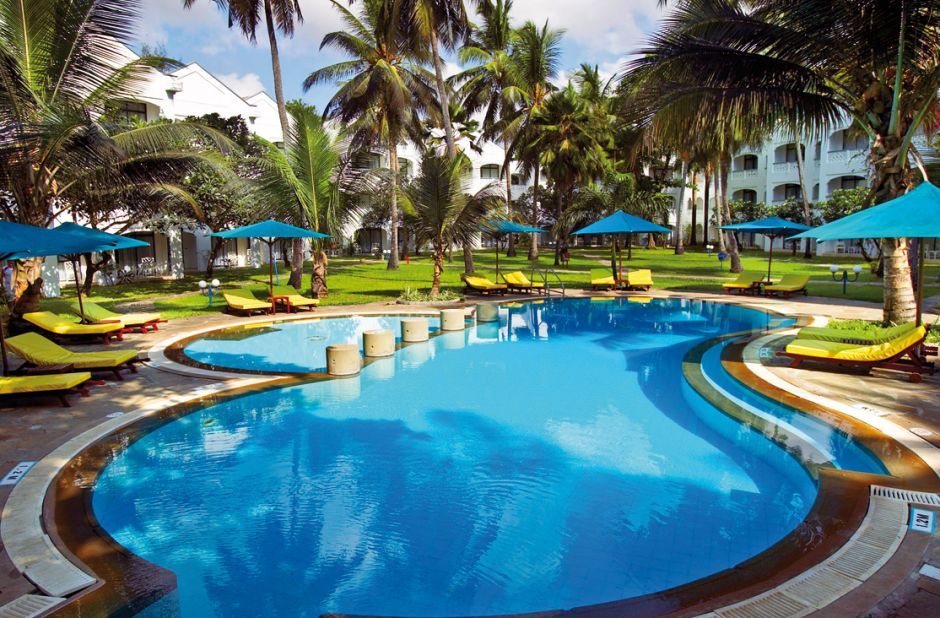 About the Hotel
This is a magnificent 338 room property North Coast of Mombasa. It prides in a spectacular white sandy beach where guests relax to enjoy the cool ocean breeze, soak in the African sun, swim in the waters of the Indian Ocean. Sarova Whitesands Beach resort has it all for you.
The Resort is located on a 22 acre prime land of tropical gardens along a 300 metre beach front and boasts of five expansive swimming pools, a luxurious spa, numerous dining and accommodation, a wide variety of activities to enjoy in and around the resort. These include deep sea diving or fishing among others.
Something special like a romantic dinner by the beach, dinner in the stars by the swimming pool among others spices up your experience here. Simply put – Sarova Whitesands is the dream destination resort for your holiday.
Hotel Facilities & Services

Tennis court
Diving
Water sport facilities (on site)
Fitness centre
Massage, Spa and wellness centre
Free Wifi
Room service
24-hour front desk
Currency exchange
Concierge service
Babysitting/child services
Laundry ( at an extra cost)
Meeting/banquet facilities
Business centre

Prices & Availability

RATES VALIDITY

03rd Jan, 2016 – 31st Mar, 2016

16th Jul, 2016 – 31st Aug, 2016

( High Season)

Room

Occupancy

Single Room

Per Person

Double/Twin

Per Person

Triple Room

Per Person

Child Sharing

( Under 12 Yrs)

Half Board
USD
USD
USD
USD
Standard Room
215.00
140.00
125.00
70.00
Palm Room
260.00
165.00
140.00
80.00
Seafront Room
275.00
170.00
145.00
85.00
Premier Seafront Room
295.00
180.00
155.00
90.00
Full Board Supplement
30.00
30.00
30.00
15.00
All Inclusive Supplement
65.00
65.00
65.00
35.00

RATES VALIDITY

01st Apr, 2016 – 15th Jul, 2016

( Low Season)

Room

Occupancy

Single Room

Per Person

Double/Twin

Per Person

Triple Room

Per Person

Child Sharing

( Under 12 Yrs)

Half Board
USD
USD
USD
USD
Standard Room
105.00
105.00
90.00
50.00
Palm Room
155.00
130.00
105.00
65.00
Seafront Room
170.00
140.00
110.00
70.00
Premier Seafront Room
185.00
145.00
115.00
75.00
Full Board Supplement
30.00
30.00
30.00
15.00
All Inclusive Supplement
50.00
50.00
50.00
30.00

RATES VALIDITY

01st Sept, 2016 – 22nd Dec, 2016

( Shoulder Season)

Room

Occupancy

Single Room

Per Person

Double/Twin

Per Person

Triple Room

Per Person

Child Sharing

( Under 12 Yrs)

Half Board
USD
USD
USD
USD
Standard Room
170.00
125.00
105.00
60.00
Palm Room
220.00
150.00
120.00
75.00
Seafront Room
235.00
160.00
125.00
80.00
Premier Seafront Room
250.00
165.00
130.00
85.00
Full Board Supplement
30.00
30.00
30.00
15.00
All Inclusive Supplement
65.00
65.00
65.00
35.00

RATES VALIDITY

23rd Dec, 2016 – 02nd Jan, 2017

( Christmas & New Year)

Room

Occupancy

Single Room

Per Person

Double/Twin

Per Person

Triple Room

Per Person

Child Sharing

( Under 12 Yrs)

Half Board
USD
USD
USD
USD
Standard Room
475.00
290.00
250.00
145.00
Palm Room
525.00
315.00
265.00
155.00
Seafront Room
540.00
325.00
270.00
160.00
Premier Seafront Room
555.00
330.00
275.00
165.00
Full Board Supplement
30.00
30.00
30.00
15.00
All Inclusive Supplement
65.00
65.00
65.00
35.00
Join the Conversation & Connect with us