Hôtel des Mille Collines by Kempinski
Inaugurated in 1973 as the first grand hotel of the country and receiving globally a lot of attention since the Hollywood movie 'Hotel Rwanda' in 2004 – Hôtel des Mille Collines by Kempinski is surely the most famous hotel in Rwanda. Enjoy the location in the central business district and the breathtaking views over the hills of Kigali. Indulge yourself in culinary experiences from casual to fine dining, from international cuisine to local signature dishes, accompanied by enticing live music entertainment.
The hotel has 112 tastefully furnished rooms and luxurious suites with a mix of traditional and contemporary handicrafts and art.
 Hotel Facilities
Outdoor pool
Garden
Terrace
Tennis court
Golf course (within 3 km)
Fitness centre
Nightclub/DJ
Evening entertainment
Bar & Restaurant
Restaurant (à la carte)
Snack bar
Free WiFi internet facility
Room service
24-hour front desk
Currency exchange
Luggage storage
Concierge service
Laundry & Dry cleaning services
Meeting/banquet facilities
Business centre
Fax/photocopying
Gift shop
VIP room facilities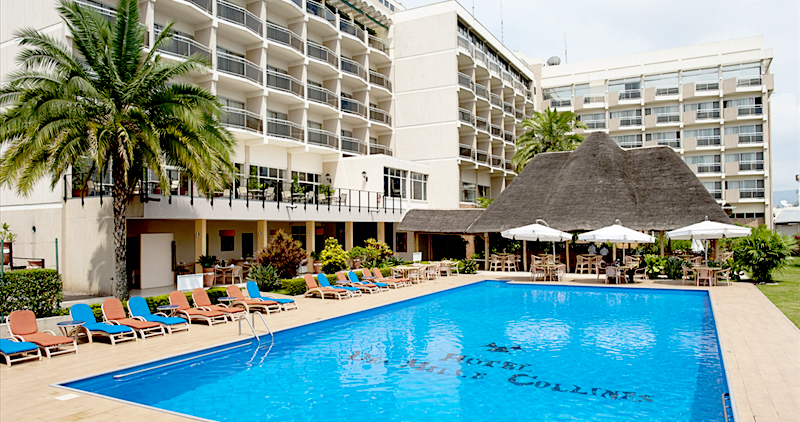 Kigali Serena Hotel
Ideally located on one of Kigali's most charming boulevards, the five-star Kigali Serena Hotel is built around a polished granite atrium, which showcases the very best of Rwandese cultural art.
Relaxed yet elegant, the hotel features an Executive Lounge and Bar, which opens onto a wide sundeck overlooking the newly refurbished swimming pool. Also overlooking the pool, the popular Milima Restaurant offers a wide range of all-day buffet choices, while the relaxed Sokoni Café offers inside and outside poolside seating.
Regarded by many as Kigali's natural business hub, the hotel also boasts its own extensive conference centre, 500-seater auditorium and lavish ballroom.
FACILITIES
Wide selection of 148 rooms and suites: all with AC, satellite TV, Wi-Fi and voice-mail
The Milima Restaurant
The Sokoni Café and Bar
The Executive Lounge and Bar
Swimming pool, pool deck and gardens
The Maisha Health Club
Dedicated conference and social events centre
Business Centre, travel desk, taxi and limousine service
Gift Shop, news-stand and travel requisites kiosk.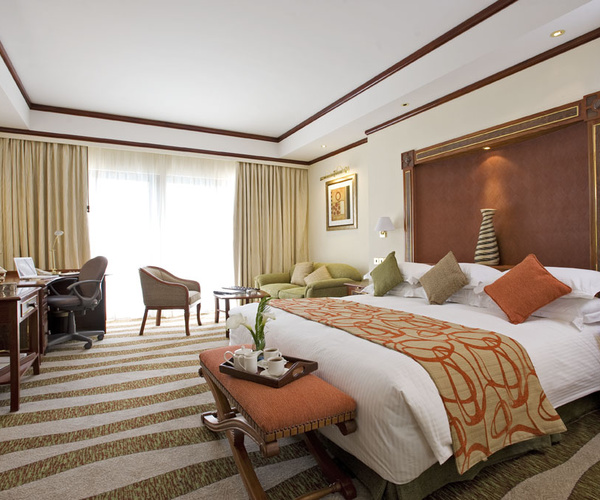 Flame Tree Village
Flame Tree Village is strategically located in the quiet suburb of Nyarutarama in Kigali. It boasts a total of 20 spacious villas that are not only comfortable, but provide a tranquil, homely experience. The hotel has free Wi-fi internet connection as well as a well-stocked pool bar. The residence has a pool as well as an in-door restaurant and an out-door sitting area.
The residence is located within easy access of major facilities and amenities such as the Kigali International Airport which is less than 10 minutes drive and the Kigali Central Business District also a mere 10 minute drive. Within the area are also major shopping centers such as MTN Center Nyarutarama and the Nyarutarama Golf Club.
 Facilities Outdoors
Outdoor pool
Garden
Terrace
Bar & Restaurant
Free Wi-fi Internet
Room service
24-hour front desk
Laundry ( at an extra charge)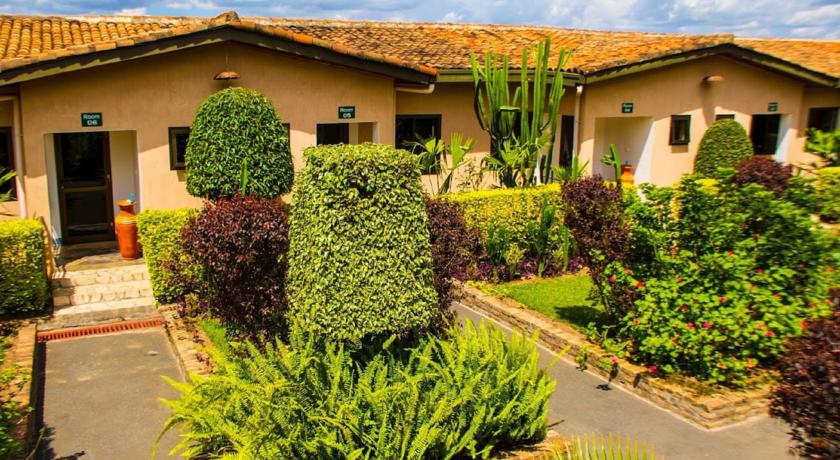 Lake Kivu Serena Hotel
Serenely sited on the white sandy shores of Lake Kivu, the sixth largest lake in Africa, and surrounded by extensive tropical gardens, the tastefully open-plan Lake Kivu Serena Hotel offers the ideal extended holiday destination in Rwanda or week-end escape.
Within several hours drive of both the Rwandan capital, and the glorious Volcanoes National Park (home of the world famous mountain gorillas), it overlooks its own private beach and offers; 66 luxury hotel rooms, executive suites and family accommodation, a panoramic restaurant, indoor and beachside bars, a luxury swimming pool, and the 'Maisha' Health Centre (offering an extensive range of health and beauty regimes, boating, swimming, volley ball, tennis, fishing, hiking and trekking). Our Lake Kivu hotel also boasts a world-class fully-integrated Conference Centre, a distinguishing service offering in Rwanda.
FACILITIES
Wide selection of rooms and suites: all with AC, satellite TV, Wi-Fi and voice-mail
The Kiyaga Restaurant
The Lake View Bar and Terrace
The Ziwani beach café and bar
Swimming pool, pool deck and gardens
The Maisha Health Club
Dedicated conference and social events centre
Business Centre, travel desk, taxi and limousine service
Gift Shop, news-stand and travel requisites kiosk.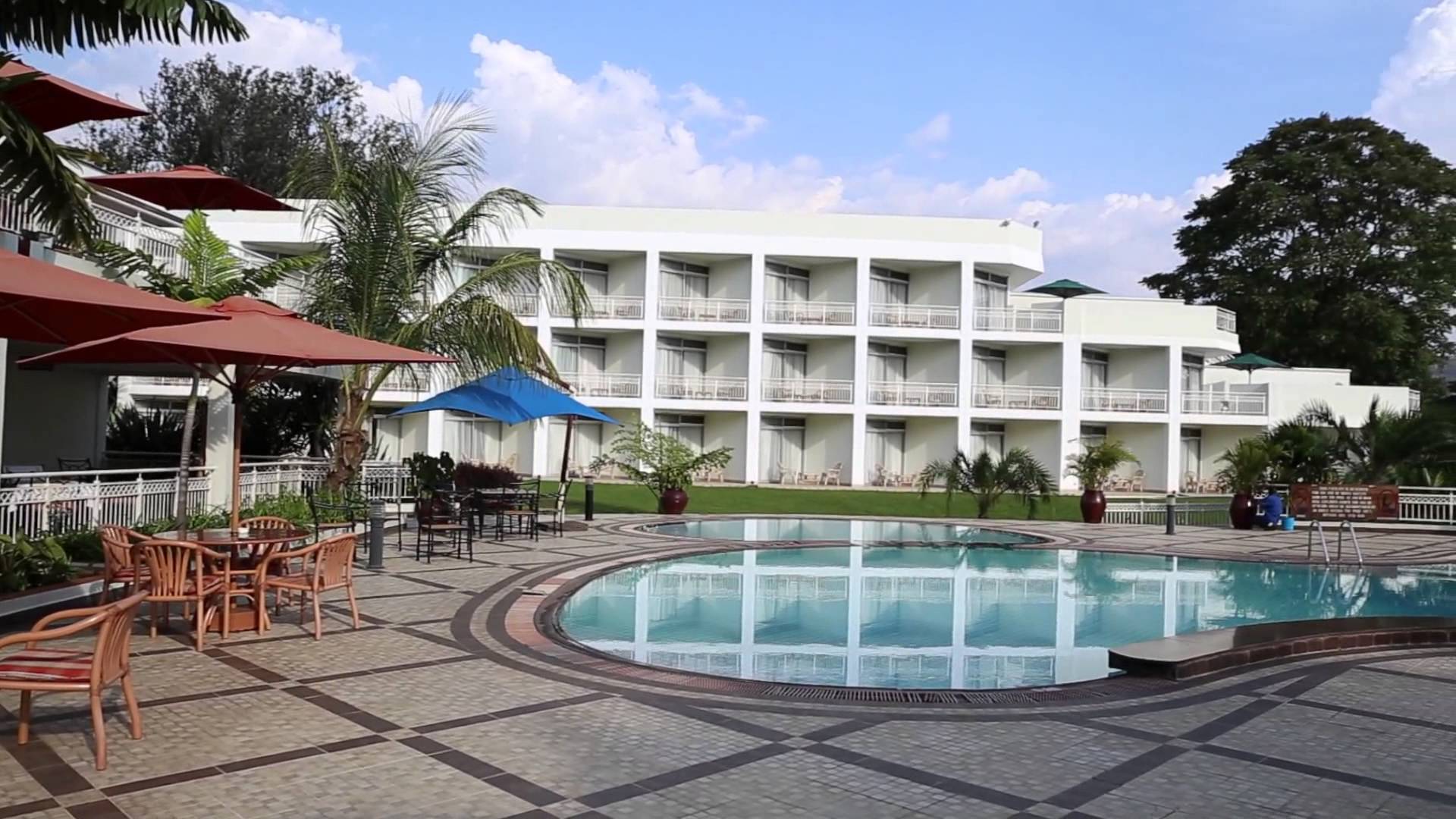 Mountain Gorilla View Lodge
Mountain Gorilla View Lodge is located in Kinigi in northern Rwanda and on the edge of the Volcanoes National Park, home to the endangered Mountain Gorillas. The lodge is located on the foothills of the Mount Karisimbi, one of the volcanic mountains that make up the Virunga Massif. The lodge is about 10 minutes' drive to the main entrance of the Volcanoes National Park where gorilla trekking starts.
Mountain Gorilla View Lodge is an eco-lodge with 30 spacious chalets. To ensure the least disruption of the surrounding environment, the eco-lodge was constructed with locally available material. Every chalet comes with a sitting area with a fireplace and has a tea/coffee making machine. The eco-lodge supports the surrounding rural community by purchasing farm-fresh produce that is served in the lodge's restaurant.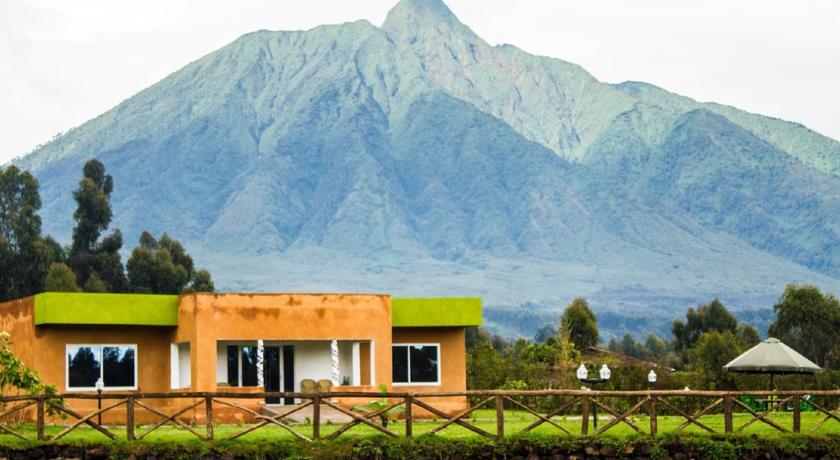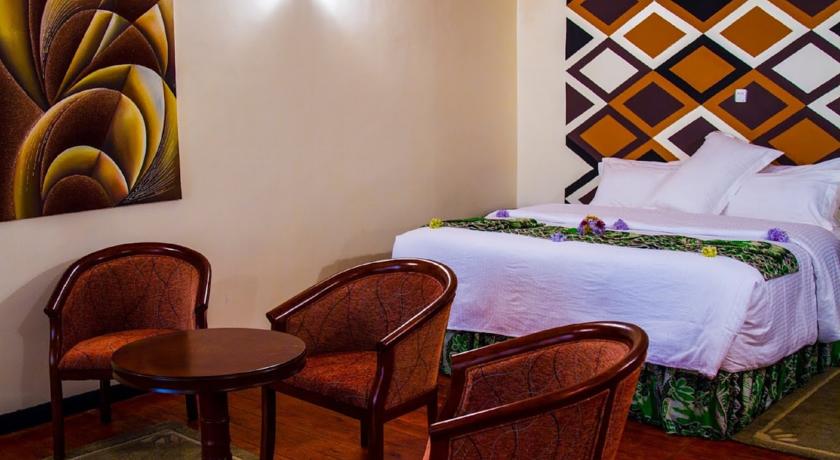 Sabyinyo Silverback Lodge
Sabyinyo Silverback Lodge is located close to the headquarters of the Parc National des Volcans from where clients trek on foot to see the magnificent Mountain Gorilla – perhaps one of the most dramatic, thrilling and poignant wildlife experiences possible.
The lodge, situated in the foothills of the mighty Virungas, the chain of 15,000 ft volcanoes stretching through Rwanda, Uganda and the Democratic Republic of Congo, affords wonderful views of the volcanoes and the surrounding countryside.
Accommodation at Sabyinyo Silverback Lodge comprises five cottages, two suites and one family cottage. All are stone buildings with Rwandese terracotta tile roofs, and feature large sitting areas, fireplaces, stylish en-suite bathrooms finished with Venetian plaster a dressing room and a sheltered veranda. Heat exchangers in the fireplaces provide a plentiful supply of hot water. The family cottage comprises two independent ensuite rooms connected by a shared verandah. The main lodge building comprises reception, sitting room with snug area, dining room, library / games room, a responsible tourism / community awareness room, shop and bathrooms. Three large fireplaces provide warmth and all rooms are finished with a polished wooden floor. Two patio areas afford wonderful and dramatic views to the Virunga Volcanoes and the surrounding lowland farmland.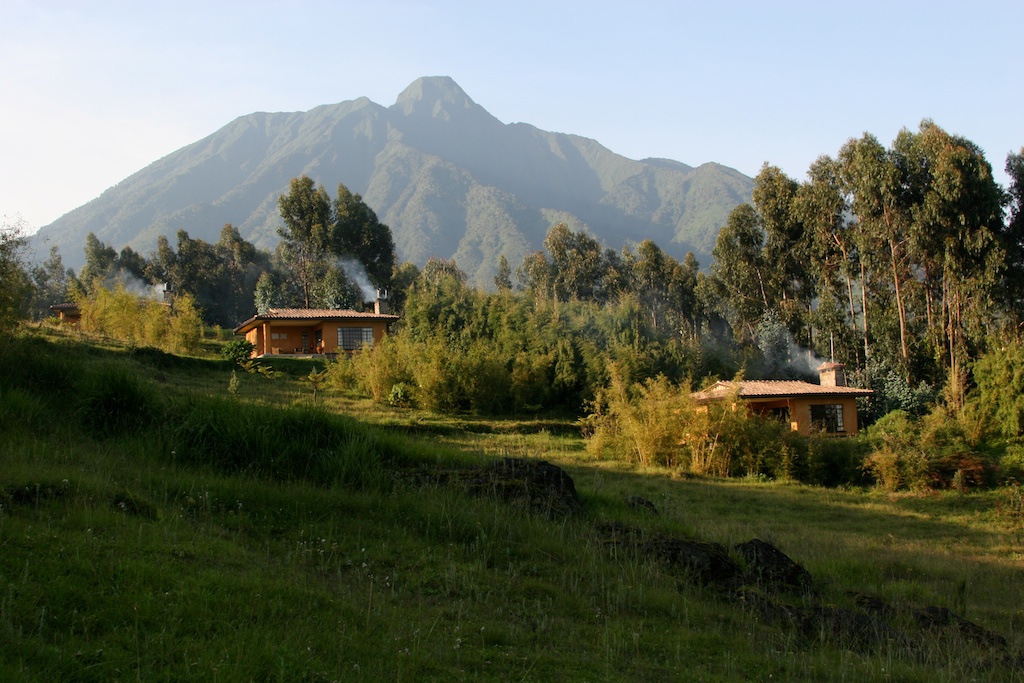 Virunga Lodge
The magnificent Virunga Lodge is perched high on a ridge and has stunning views of the Virunga Volcanoes and the twin lakes Bulera and Ruhonda.
The Virunga safari lodge has been described as having 'the best view in the world' and as 'one of the finest lodges in Africa'. The organic, 'bush-chic' design reflects the local building style and offers eco-luxury comforts to all guests. Each banda has its own terrace with breath-taking views of the Virunga volcanoes or twin lakes, while sensitive installations such as low-flush toilets and solar power ensure you enjoy luxurious comforts while maintaining a crucial sensitivity to the environment.
The lodge has 10 Stone guest bandas with tile roofs (2 deluxe, 4 doubles and 4 twins) reflect the local building style. En-suite bathrooms with flushing toilet, double vanity, shower with hot and cold running water. Rooms have mosquito nets, 240v lighting and a private veranda. Bandas are individually named after regional African lakes. For those who still want to connect with the world while on safari, Wi-Fi is available in the main lodge building.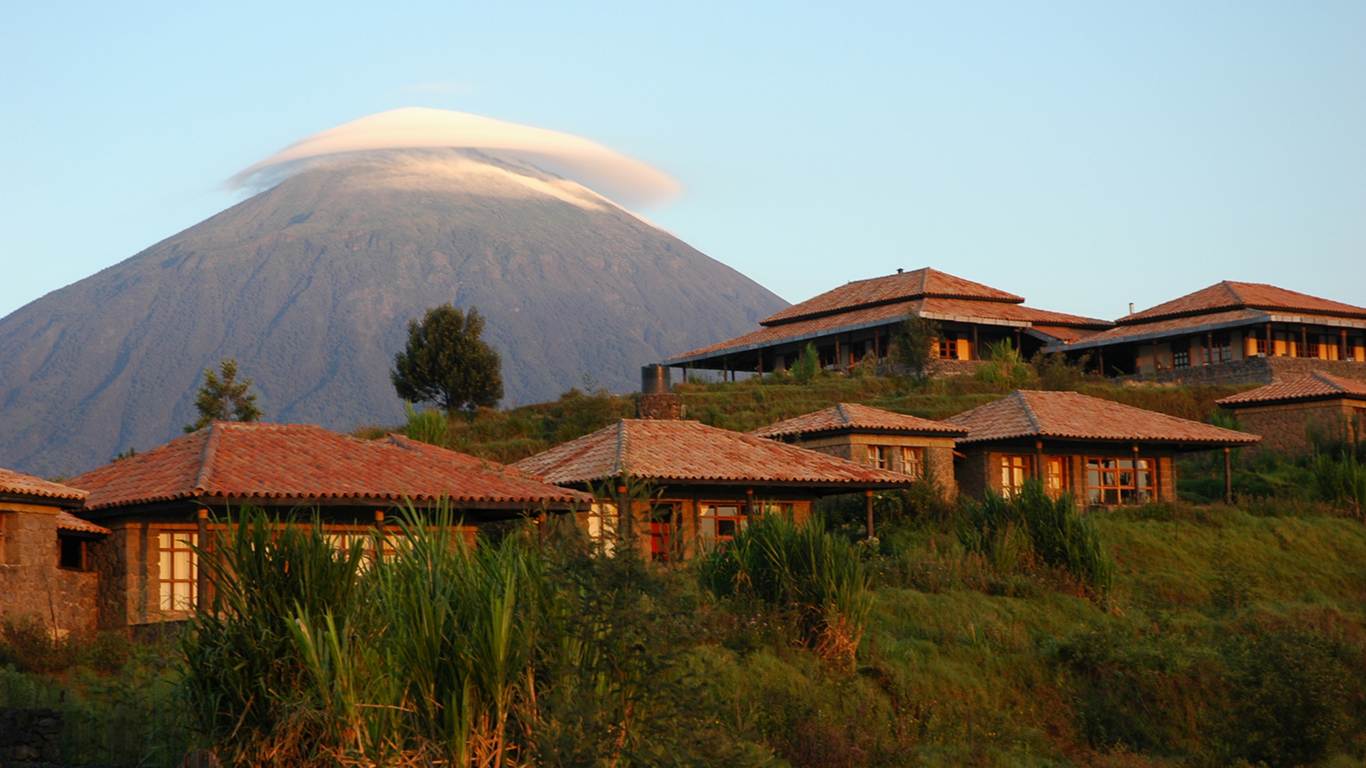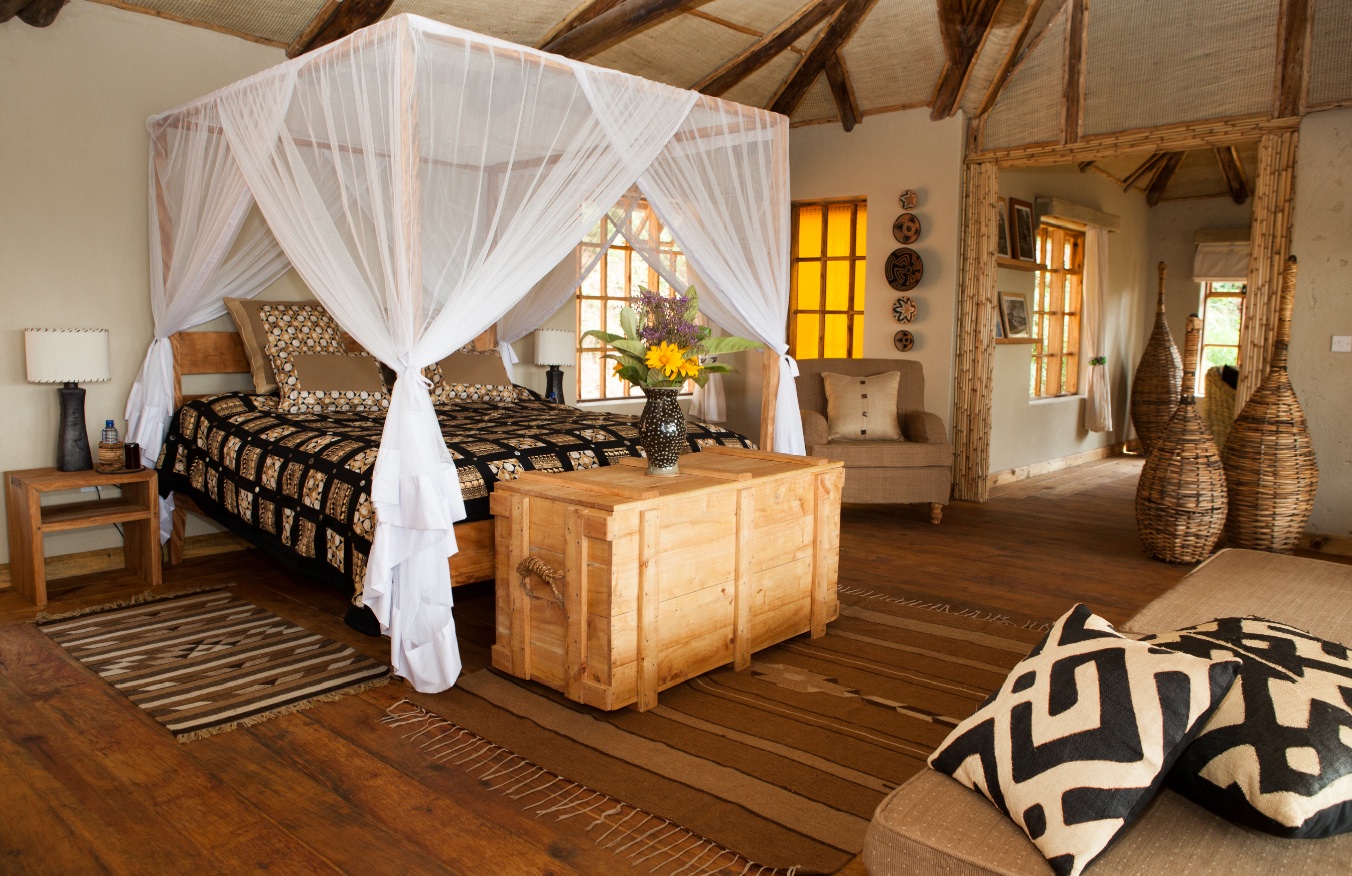 Nyungwe Forest Lodge
Designed to fit harmoniously within its beautiful natural surroundings, Nyungwe Forest Lodge offers guests exceptional 5-star comfort and ensures an experience rich in local culture, fluently fused with quality service and African courtesy. The lodge is situated in Gisakura, a working tea plantation, on the edge of the Nyungwe National Park. The Nyungwe Forest is the largest mountain rainforest on the African continent with over 13 different species of primates, representing 20% of all the apes in Africa.
Nyungwe Forest Lodge consists of 22 luxury rooms which are situated in 6 wooden villas of four rooms each. There are also two presidential suites in separate villas with one of these having a Jacuzzi. This is a luxury lodge and as such the rooms are modern fit-outs and well decorated with traditional touches. Each room is equipped with private decks which offer views overlooking the vast forest terrain.
There are over 275 different species of birds as well as 75 different species of mammals that reside in Nyungwe National Park. The birds are particularly spectacular with giant hornbills, great blue turacos and red-breasted sparrow hawks being amongst the bird-watcher's favorites. Twenty-four of these species are endemic to this section of the Rift Valley alone.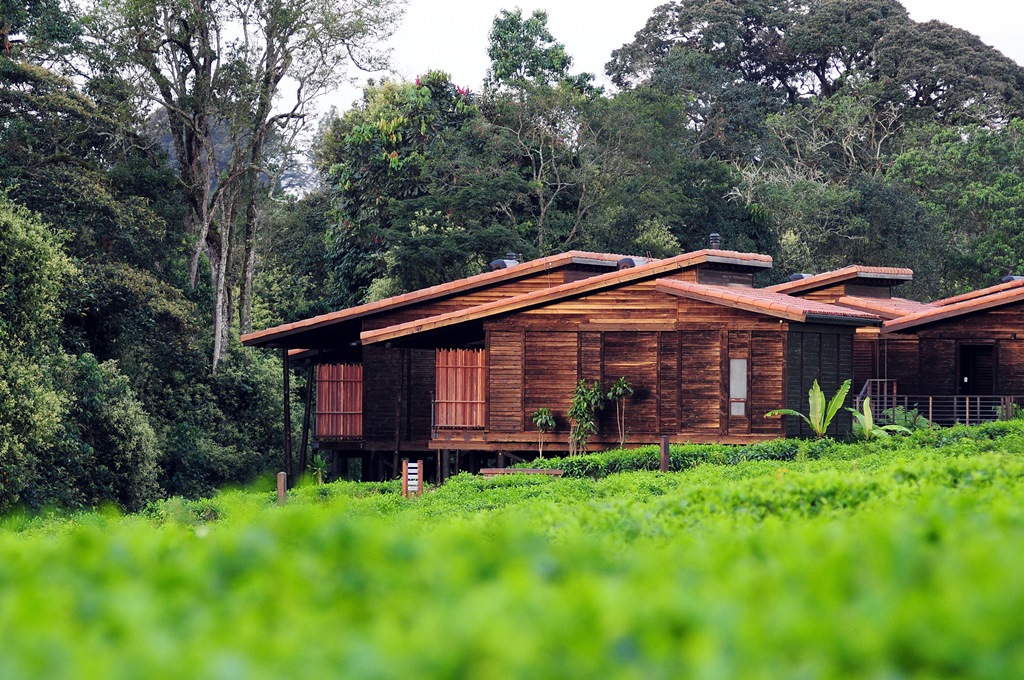 Join the Conversation & Connect with us