The Wildebeest Migration takes place each year between the Serengeti National Park in Tanzania and the Masai Mara game reserve in Kenya. Over 1 million Wildebeests are believed to participate in this mass exodus. The wildebeests' journey is dictated primarily by their response to the weather; they follow the rains and the growth of new grass. Although there is no scientific proof that this is true, it seems that they, as well as other animals react to lightning and thunderstorms in the distance.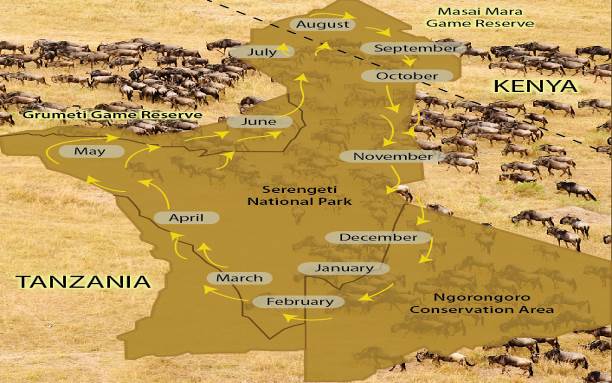 The Wildebeests are accompanied by large numbers of zebra, and smaller numbers of Grant's gazelle, Thompson's gazelle, eland and impala. Lions, hyenas, leopards, cheetahs among others closely follow the Migration to prey on the herbivores. With the circular movement of the wildebeests between the Masai Mara and the Serengeti National Park and the following they attract, it means tourists need to book different areas of the 'giant' Serengeti National Park depending on where the migration is at that time of the year.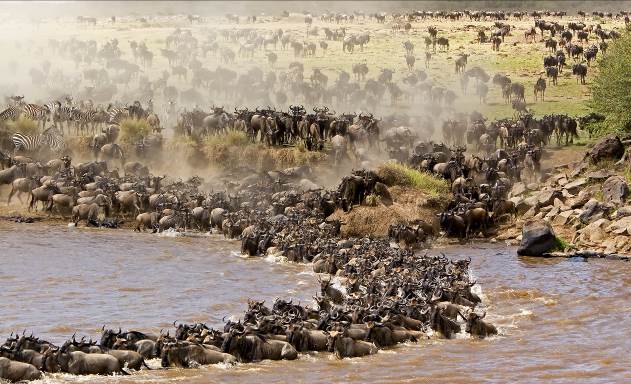 Below summary of the year will help you know where the Wildebeest Migration is around a certain time of the year:-
December – March: The Wildebeests are on the Southern Serengeti Plains and Southern Loliondo. February and March is when the wildebeest cows give birth to some 300,000 to 400,000 calves.
April – During this time the Wildebeests move from the Serengeti Southern Plains to the Central Serengeti.
May – June: The Wildebeests move from Central Serengeti to the Western Serengeti Corridor, where they cross the Grumeti River.
July – September: The Wildebeests move from the Serengeti Western Corridor to Northern Serengeti, cross the Mara River into the Masai Mara Game Reserve. During this period is where mating takes place in the Masai Mara.
October – November: By late October when the first of the short rains are falling on the Serengeti's plains and bringing new flushes of growth, the wildebeest start heading south again. They trek down through the eastern woodlands of the Serengeti, some 90 per cent of the cows heavy with the new season's young. Tightly grouped as they pass through the wooded country they scatter and spread out again once they reach the open plains in Ngorongoro Conservation Area.
Join the Conversation & Connect with us